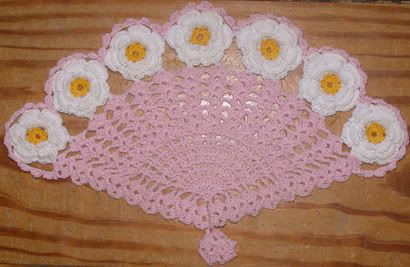 The pink fan part was done up first and then the flowers for this doily were crocheted onto the fan doily part and then the pink edging was done around the flowers and then the little piece that sticks at the base of the fan was then crocheted. This is the finished picture of this doily.
Each of the 3-tiered flowers have 6 petals.
When I do this doily again I will do a step by step process of this doily.
This handmade doily took me about two days to do this doily.
Here is the link to this doily on my website:
Crocheted Doilies page 2
This pattern for this doily came from a book that is called Vintage Floral Doilies by
Elizabeth Ann White
. Elizabeth Ann White also does the patterns for Bella Crochet. Her doily patterns are so pretty.